What is Polish Psychodrama Institute?
Polish Psychodrama Institute is an association that consists of over 150 active members. Its main base is located in Cracow, South Poland.
Members of Polish Psychodrama Institute are from different origin. There are many psychotherapists, psychologists, medical doctors, some pedagogues, actors, artists, philosophers, and others. However what differentiates us strongly from other Institutes around Europe, is the big amount of highly educated clinicians, certified psychotherapy supervisors and psychotherapists who apply psychodrama in their every day work and maintain highly professional and secure environment for all our activities. So far we have educated 22 psychodrama trainers/leaders and recently we have gained three independent psychodrama supervisors, who had passed PAFE e.V. exam: Anna Bielańska, Wiesława Piątek-Janicka and Jarosław Gliszczyński.
The Board of PPI since September 2023
Ariadna Romejko-Borowiec – The President
Anna Bielańska  – Vice President
Michał Faron – The Secretary
Igor Hanuszkiewicz – The Treasurer
Jacek Syguda - Board member
Maria Kołodziejczyk - Board member
Roman Ludkiewicz - Board member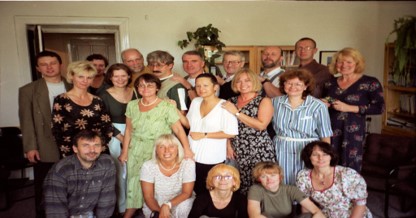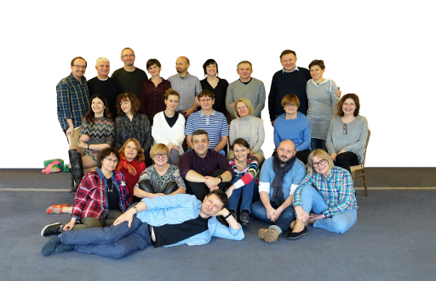 The History of PPI
Polish Psychodrama Institute was founded in 1999 in Cracow. Nevertheless Polish adventure with Moreno method was initiated earlier in 80-ies at The Department for Neurotic and Behavioural Disorders of University Hospital in Cracow, where Sonia Beloch from Germany was invited by Prof. Jerzy Aleksandrowicz to lead the first psychodrama group, that consisted only of psychotherapists.
Later on, in 90-ies next two first level groups were opened and led separately by Sonia Beloch and Eva Røine - Norway. In these groups there were Jarosław Gliszczyński, Anna Bielańska, Agnieszka Bartkowska-Kurek, Wiesława Piątek-Janicka, and others, who secondly formed the bases of the Institute. The first Polish second level group was directed by Bernd Fichtenhofer.
Since then we have had several trainers from Germany and Norway supporting us and some of them still do. For the past few years we have had the pleasure to experience and learn from Hilde Gött – Germany, Eva Schjetne - Norway, Eduardo Verdu – Norway and Inara Erdmanis – Latvia, who have been giving us workshops and supervisions. Moreover many foreign trainers are invited every year to lead the seminars for our trainees on variety of topics. Among them: Leandra Peralta, Maurizio Gasseau, Ludmiła Litvinienko, Judith Maschke, Roger Schaller, Jacov Naor, Christoph Hutter and others. Also our trainers work abroad mainly in the Eastern part of Europe, in Ukraine, Belarus and Lithuania, where they lead seminars and groups. In 2004 psychodrama by Moreno was acknowledged by Polish Psychiatry Association and recommended as one of the alternative self experience trainings for future psychotherapists.
Activities inside the country
Education of assistants, psychodrama therapists/leaders and trainers
We organise full three stage psychodrama trainings, seminars and supervisions according to the roles of Psychodrama Institute for Europe. They are run by both Polish as well as foreign trainers and supervisors mostly from Europe.
Trainings take place in deferent centres all over the country: Cracow, Silesia, Warsaw, Lublin, Białystok, Poznań and Wrocław, of which Cracow and Katowice are the most active ones.
Since 2002 we have organised and finished over 30 first lever groups and 6 second level groups. So far already about 500 people have completed the first level groups. At this very moment there are 13 first level groups working and 2 second level groups are supervised and prepare for colloquium.
Every year selected group of "newborn psychodrama therapists" get a chance to further develop theoretical and practical knowledge in order to achieve the trainer degree.
To maintain constant development of our skills, and make a space for creative and spontanous encouters, two times a year we provide special supervision groups and workshops for the trainers only.
Psychodrama specialised psychotherapy trainings
We try to promote psychodrama as a psychotherapeutic method in the country, therefore we have participated in all major psychotherapeutic and psychiatric conferences organised in Poland. As a result of our work psychodrama has been well recognised by Polish Psychiatric and Psychological Associations, which has led to organisation of two independent psychodrama oriented full psychotherapy postgraduate trainings for the past 10 years.
Under the PPI auspices there are psychodrama therapeutic and self experience groups arranged and directed by psychodrama psychotherapists.
Psychodrama Festival
In order to integrate Polish psychodrama milieu and open up the possibility for mutual cooperation, learning and any creative initiatives, every second year we organise a Polish Psychodrama Festival that gathers approximately 160 psychodramatists. This year our Festival was titled "Cosmos and Body". During it the first polish Playback Theatre "OLE" was established. Now there are two more of them: Hejnał and Self.
Cooperation with international psychodrama organisations PAFE e.V. & FEPTO
Since in the very beginning we have been developing well thanks to PAFE e. V. support and we have become one of the largest psychodrama organisations in Europe, we feel very closely related to PAFEe. V., use its principles, and standards. Our representatives work in its Board to support the further development of psychodrama in the eastern and western counties. As the members of PAFE e. V. and FEPTO (The Federation of European Psychodrama Training Organisations) we actively participate in different projects concerning: upgrading training standards, ethical principles, application of psychodrama in psychotherapy, scientific research, expansion of psychodrama into other dimensions and places, etc..
Publications in Polish
PPI has published two books on psychodrama, one was a translation of Eva Roine (1994) Psychodrama: Group Psychotherapy as Experimental Theatre and the other Anna Bielańska (Ed) (2009) Psychodrama: Elements of Theory and Practice
There have also been several articles published in psychotherapy and psychiatry journals:
PSYCHOTERAPIA 1 (176) 2016:
Anna Bielańska: Monodrama as a specific intervention in treatment of auditory hallucinations
Łukasz Cichocki, Joanna Palka, Julian Leff, Andrzej Cechnicki: The use of masks in the treatment of patients with chronic auditory hallucinations
Małgorzata Kowalcze: Psychodrama in clinical supervision
PSYCHOTERAPIA 4 (171) 2014:
Wiesław Sikorski: Theatricality of children psychodrama — figment or necessity?
PSYCHOTERAPIA 1 (156) 2011:
Roman Ludkiewicz: The warm-up and the selection of a protagonist in psychodrama
Anna Bielańska: Creativity - a source in the garden of life  
Kleopatra Psarraki: Psychodrama and a difficult patient  
PSYCHOTERAPIA 1 (136) 2006:
Elżbieta Galińska: Death and rebirth in psychodrama. Part II: Clinical practice  
PSYCHOTERAPIA 4 (135) 2005 :
Eva Roine: Some aspects of J.L. Moreno's philosophy - a continuator of tradition in current spirituality  
Jarosław Gliszczyński: Psychodrama and psychoanalysis - an integration approach  
Elżbieta Galińska: Death and rebirth in psychodrama. Part I  
Elżbieta Bocheńska-Schjetne: Use of psychodrama in preparing for marriage   
PSYCHOTERAPIA 4 (131) 2004:
Anna Sarol-Kulka: Jacob Levy Moreno and his theory of creativity and spontaneity
Elżbieta Galińska: Elements of reparation in psychodrama and music therapy according to Melanie Klein
PSYCHOTERAPIA 1 (124) 2003:
Elżbieta Galińska: Traumatic experiences and their therapy by means of the musical portrait method  
PSYCHOTERAPIA 3 (118) 2001:
Elżbieta Galińska: Perspectives and limits of music therapy and psychodrama therapy in the treatment of schizophrenia
PSYCHIATRIA POLSKA 2011, XLV, 2:
 Bernadetta Izydorczyk: Adaptation of psychodrama in psychotherapy of patients with anorexia nervosa and bulimia nervosa